Summer Curvy Girl Hacks
Being a curvy girl in the summer season can be a huge challenge – the heat is definitely not our friend sometimes. From heat rash to sweating in places we didn't know could sweat, it's just not a fun time for us. To survive the summer, we curvy gals somehow have to be creative and find ways to stay cool in the brutal heat, but still kill it with some ultra fabulous outfit choices. So here are some perfect fashion hacks for any curvy girl to use when the sticky weather is getting you down.
Stick to more breathable fabrics when you're purchasing your clothing. Skip the polyester fabrics and go for something made out of cotton so it'll feel a lot more comfortable on your body. That way your body will breathe more, you won't sweat as much, and you won't have as many sweat marks on your clothing, which is definitely not flattering at all for anyone to see! Chiffon fabric is definitely something you should probably just skip, because it's constricting and uncomfortable a lot of the time to people of larger stature. Unless it's something chiffon that's very big and flowy, I'd skip it for the summer time, no matter how cute it is.
Shorts or spanks become your best friend. Don't skimp on the skirts and dresses this summer just because of the chafing and heat rash that you get on your inner thighs from the horrible sweat you get there. If you wear a pair of shorts or spanks underneath the dress or skirt, you're much less likely to get that annoying rash that takes forever to go away and is incredibly painful! So do yourself a favor and invest in a couple of pairs of nice, tight shorts that are perfect to go under dresses and skirts.
Skip the stripes! I know that a lot of stores sell lots of clothing pieces with stripes on it, but it's not flattering to a woman with lots of curves. They honestly just make you look wider than you already do when they're horizontal, so I just tend to skip them all together.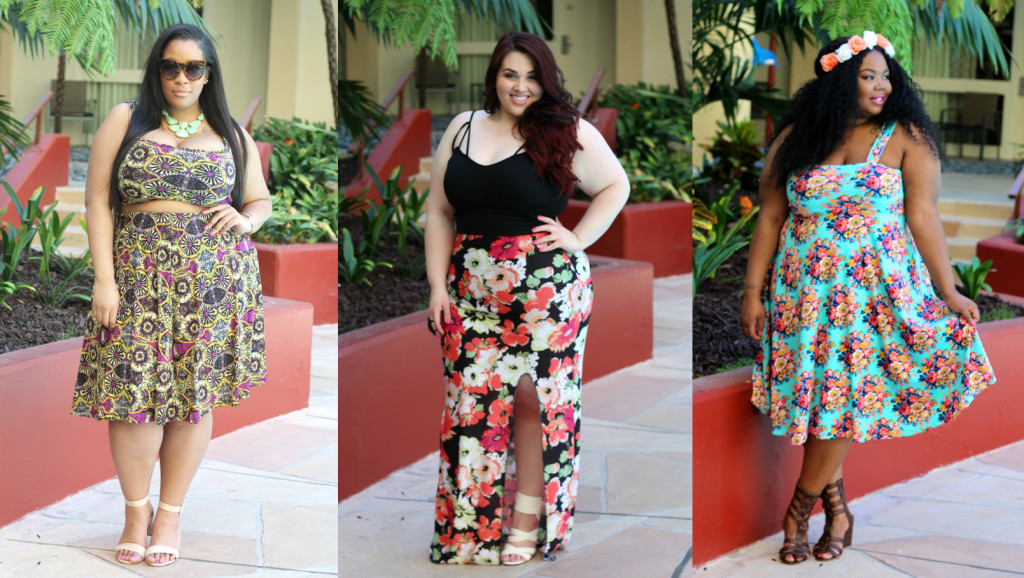 Take advantage of the maxis! Maxi skirts and dresses will be your best friend in the whole word if you allow them to. So many upsides to these wonderful clothing items, and so many options of how to wear them. Cute, comfy, and they're super flattering on plus sized women when you pick the right dress! They're a fantastic invention that I am forever grateful for. Wear a pair of shorts under them so you don't chafe, and you'll be so comfy in the summer! Even though they're long, they will still keep you relatively cool in the summer heat.
If you're someone who likes to wear rings but gets frustrated when your fingers get swollen from the heat, do yourself a favor and buy yourself adjustable rings. That way if your fingers are swollen, you can just make them a little bigger so your fingers can still look fab when they're blowing up like big balloons.